When Jonah was about 7 months old I decided I wanted to cloth diaper. I always did from day one but never thought I had the time to do so nor the paients. Well when I finally took the plunge I loved it! It is so much easier then everyone always said and so not stressfull! So I got my first shippment of dipes in the mail from Fuzzi Bunz and they are great i loved them! I only got 7 dipes so i washed everynight when Jonah went to sleep. Then I stumbled acrossed barebottomsboutique 's website and met Jenn. She was so incredibly helpful and nice. She answered all my "new to cloth diapering" questions no matter how silly(and still to this day does). Well anyway she was so great I wanted to try her dipes out, so I got one of her packages and sure enough I loved them. Now when ever I go to change Jonah I always reach for one of her products.
Long story short, I had asked her a few questions about sewing somthing and she made it sound so easy! So i went out the next day and got my first sewing machine and a ton of fabric. I started off embellishing prefold diapers and she was right it was super easy.
Then I moved on to fitted dipes and those didnt come out so well. I still need to work on the pattern!! Next I went to Fleece Soakers. I bought one of these from another WHAM and loved it, so I decided to make some for myself.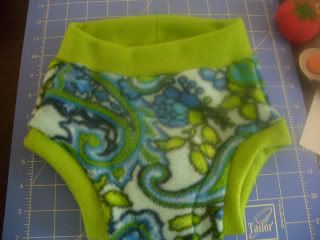 This is of my second soaker I had made.
I also have been making Baby warmies (leg warmers) they are so cute and super warm!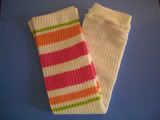 You can find all my items on my hyenacart! Please take a look!!!!!!
www.hyenacart.com/FluffyBabyBehind